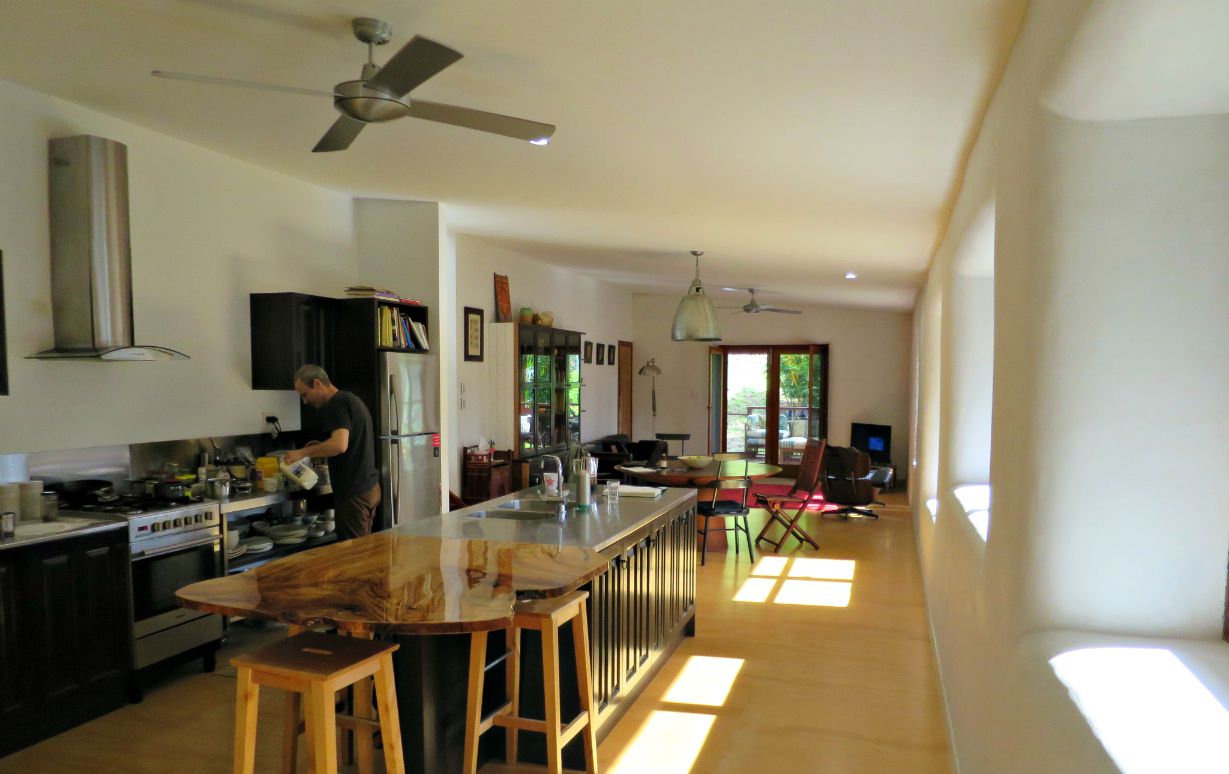 Located in the beautiful rolling hills of Conondale this strawbale house is a great example of sustainable building and sustainable living. Using straw as the main material for the walls was a high priority for Terri and Max, as they were aware of the many benefits it brings.  Situated only 35 meters from the busy Maleny Kenilworth Road, noise was the first consideration for choosing strawbale walls. It has definitely been the right decision as you cannot hear the traffic from inside the house. 
The clients have been keeping temperature records for a couple of years now and are amazed at the difference between outside and inside, sometimes up to 10 degrees.
Bales have a rating of R4.5 so this is three times as much as your conventional insulated timber stud wall of R1.5.  They even noticed a 2-3 degree difference by closing in under the house after a year of living there. By doing this it helps keep the temperature more constant with the earth's temperature and prevents cold or hot winds entering under the house.
To compliment the living benefits of building in strawbale the clients have created a beautiful ambience in their home by using crafted lime rendered walls, light plywood flooring, local timber features and a great choice of selected tiles and furniture.  By hiring a local renderer with a family history of renderers that goes back 400years in Germany, the walls are definitely the highlight of the home.  The clients receive compliments from everyone that visits and with a young boy in the home they have discovered that the strawbale walls are a lot stronger than the plasterboard walls.
The three bedroom, one bathroom, family room, and open living area is only 144sqm in floor area so is a great example of small scale sustainable living. The home offers plenty of natural light right throughout, very effective cross flow ventilation, indoor outdoor living with two deck areas, high louvre windows to let any hot air to escape and as there is no hallways, every area of their home is used efficiently.
TESTIMONIAL
"To live in a beautiful straw bale home is such a privilege and wonder, I wish everyone had one of their own to enjoy.  These wonderful natural walls created from a clever design, gives a strength and beauty that isn't diminished by time or the rigours of family life.
The simple straw bale, a by-product of local agriculture, gives us superb thermal and sound insulation (R10), 2 hour fire protection, flexibility in an earthquake and a robust durability not found in a conventional home.  They are so tough and resilient we can play basketball upon them and our very fast high jumping son can run up them with no chance of making a dent.  They are just so strong.  We can do things to these walls you couldn't do in your average home.  The beautiful lime plaster that encloses them is a smooth tactile sensation enjoyed daily, also providing thermal mass and purifying the air we breathe.  In addition, it gets harder and stronger as time goes by, the opposite of concrete that deteriorates after only 20 years.  It's a house that gives comfort and savings now and long into the future.
A great home begins with your thoughts and ideas, leading to a clever design by an outstanding designer who can utilise their knowledge, experience and artistic vision.  Steve Campbell was instrumental in making our dream a reality.  I just love the design and use of space that he created.  He kept it simple so we could afford to build, yet it is very beautiful, elegant and a functional family home.  Even the decks, one covered and one open to the stars are such a lovely, thoughtful addition.
Thank-you Steve for your wonderful design that has such sensitivity to our vision, the existing landscape and led to the creation of an exceptionally healthy, natural home.
If I had to move then I'd have to build another straw bale home.  There's no way I'm going back to living in a conventional, and often dysfunctional, home, dependant on additional heating and cooling devices.  Rarely can you buy a home like this … you have to build your own.  Do it!  It's definitely worth the effort and won't cost the earth, rather it's a building for a better future."    – Terri Lake